Bloglovin' her: denisekatipunera
8:12 PM
It was love at first sight.

One night, I was googling for thrift places around the metro when I stumbled upon the blog of a "third world fashion victim" (as her blog states). However, for me, I unquestionably see a suspect guilty of snatching fabulous thrift finds and getting away with it with such grace and sophistication.
The rush of affection for Denise's blog wasn't just about her clothes. Come to think of it, we don't have the exact style appetite. What I mean is, I may not exactly wear the clothes in her blog but I'm fond of her personal style. I love how everything she wears suits her, how she chooses clothes that accentuate her beauty and body, and how everything fits her perfectly.
I noticed that she wears mostly dresses. If not, then she's in a skirt, and at times shorts and/or pants. My mom loves her classic (but in-style) pairs of shoes that match well with anything or most of her wardrobe. And I just have to mention I envy her pretty feet. Haha.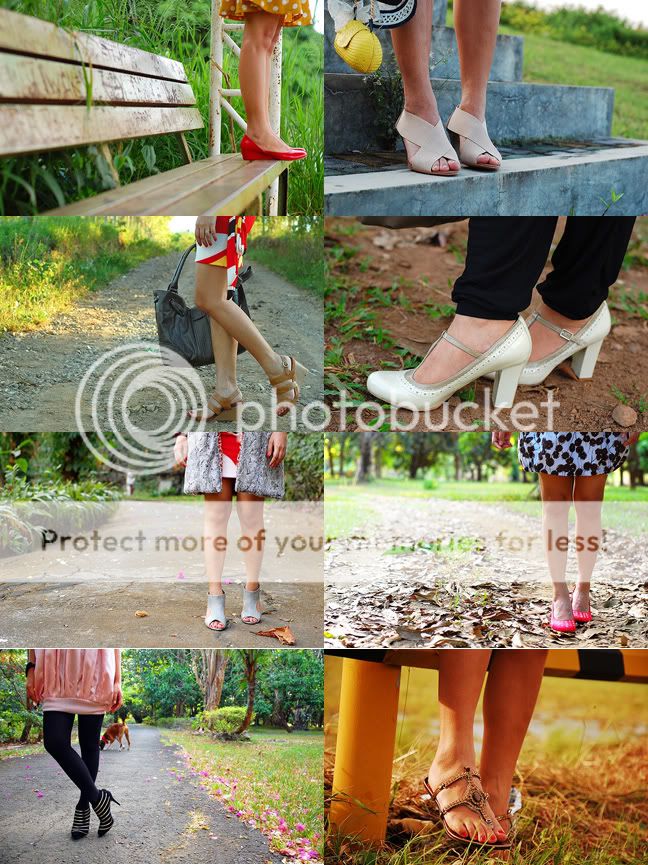 She decorates herself with hats, scarves, tights, sunnies, cover-ups (vests, blazers, etc.) and accessories. I think she fancies those crystal-like necklaces that I've seen her wear a couple of times. I actually want one too! How I wish I've discovered her blog earlier so I'd have the chance of winning the red one (down photo left side). She gave it once to a lucky reader.
Aside from her fashion sense, there was something in her photographs that captivate and amaze me. Being a photography enthusiast myself, skillfully taken pictures strike a lot to me. There are times when I'm turned off at some fashion bloggers because some of them hardly put thought in their shots. I'm not discriminating anyone. However, I believe photos should have value or else their purpose will completely be defeated. I really like how Denise's pictures stand alone. Her photos speak beyond fashion and style.
In almost all her photos, the views are breathtaking; there's depth, composition, contrast and even texture. I am obsessed with anything that is naturally lighted by the sun. I find the "cinematography" great. I also admire how she almost always photographs herself with nature. Way back when I haven't seen her blog yet, I know in myself that these are the kind of pictures I want to be captured in.
Not only her pictures, but her journal as a whole is infectiously happy and positive. She's one of the many sensible bloggers in the community. I just have to share this: Though I was very shy (I didn't know what got into me), I decided to write her an e-mail. It contained nothing much because it was very impromptu. I simply told her that I like her blog so much and that I'm inspired by everything in it - even her own love story! Haha. Being new in the blogging world, I'm overwhelmed seeing all these people in the net - people like her, and I want to blog like them too.
To my surprise (wasn't really expecting anything), she replied. In her first comment in one of my
posts
, she said she couldn't believe I'm not confident enough to blog. Promise I am not. Whenever I post something, I'm so conscious because I feel like I have no right to blog compared to all these remarkable bloggers. I'm literally shrinking! But I just say, whatever then click the "publish" button. Hihi.
I wasn't just stunned with her replying but also with what was "in" it. I had nothing much to say but on the other hand, she returned my mail with a handful of positive ideas to feed my mind. She said she's the type who doesn't like seeing all-skin kind of style; believing that dressing up equates to clothing oneself. I agree with it. What I oppose is her being uncomfortable in showing her body. Haha. She looks great. I say she has to flaunt it. She has nicely curved legs, flawless skin and a well-proportioned, fine body (she's not heavy in any area!). It's even absurd how youthful and cute she looks (guess her age).
Her styles speak for her fashion philosophy. She admits to liking layers despite the hot weather. I personally don't think it's being "trying hard" (as long as she's not wearing coats or thick jackets haha). Her dad instilled in her that it's all about 80% impression and 20% on what one has to say. "People who dress up looks somewhat rich in personality, also in mind... Tsura pa lang may dating na... And it's overkill lalo na pag witty pa," Denise shared.
Aside from fashion, she also gave me a lot of blogging advice and photography tips. Gosh many thanks for that! I super appreciate it - as in everything. As a blogger for two years, she encouraged me to just keep on blogging, to take it easy and to just be myself. And I definitely will.

(30)
Thanks for everything Denise (Can I put Ate or at least Ms.? I feel so disrespectful without it. Haha. "Ate/Ms. Denise")!
I know right, I hate sounding like a fan girl but I just did. My blog is a humble fan and I just hope it's not over-the-top. Haha. Thanks again!
Reblogged from: laimehpits.livejournal.com/ 04.10.10